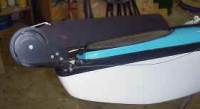 If there isn't already a notch cut out of the stern of the boat for the rudder to sit on, one must be cut.
Take rudder in flip up position and place it against the end of the boat to find the exact depth of your cut. Then cut out the notch.
Measure about 1" from the end of the notch to stern of boat and drill a 3/16" hole about 1 ½" to 2" deep. Then pound in brass insert (1/4") (NOTE: small claws should face up).
From the hole, measure exactly one inch towards stern of boat. Drill out a ½" hole on a very slight angle (leaning towards boat).
NOTE: Be very careful not to drill through end of boat--the hole needs to be the same size as the pintle pin on the rudder. Then pound the plastic bushing stock into the ½" hole and cut it even to the boat.
NOTE: You may want to seal the open notch with 5-minute epoxy, but it is not necessary. However, if you do, be sure not to fill either hole with the epoxy.
Place rudder into hole and use the small plastic/large plastic washer and the bolt to hold rudder on (for boats that weren't factory installed). Flip the rudder up onto the deck to adjust the cleaver stopper placement. The cleaver stopper should be about 1-2" from the very end of the blade. Drill (2) 3/16" holes and attach stopper.
Now to adjust appropriate length of cable: Leaving cleaver stopper up in bracing position, go to where you attached cable to footrest webbing. Extend footrest webbing to its maximum length--push the footrest to the farthest spot without falling out of the extrusion (forward), then attach vise grips onto cable just before the beginning of the tubing. This will stop the cable from moving when you connect the other end to the rudder and pull cable tight!
Connect to rudder by putting the 10-24x1" pan phil bolt and 10-24 nylock nut with washer into rudder holes and wrap cable around bolts and tighten the same way you connected it to the webbing.
NOTE: Make sure to pull the cable slack before tightening.